Domestic violence is a very serious cause and sadly, an all too prominent issue in the United States. Yet it can't be ignored that false allegations of domestic violence do happen.
A 2009 report from the University of New Mexico School of Law explains that recantation in domestic violence cases has become the norm. According to the head of the Family Violence Division of the Los Angeles District Attorney's Office, an estimated 90% of domestic dispute victims recant their original statements. A recantation does not always mean the abuse didn't occur, but for some reason, the victim recanted their statement whether it be due to pressure from the accused, fear, false accusations or other outside factors.
Due to the emotional and often volatile nature of domestic violence, there are many organizations and protocols in place to help victims quickly and safely escape a dangerous situation. Sadly, this also makes it easy for domestic violence charges and restraining orders to be taken advantage of. Due to the high prevalence of recantation, it is commonplace for prosecutors to turn a blind eye to possible perjury in domestic violence cases for fear of criticism even though it is widely understood that lying to a court is in fact a felony.
According to SAVE, an organization dedicated to finding evidence-based solutions to end domestic violence and sexual assault, it is estimated that nearly 700,000 people are wrongfully convicted of domestic violence every year yet there are no district attorneys who regularly prosecute false allegations of domestic violence. With the high prevalence of innocent men and women convicted of domestic disputes, it's shocking to hear there are no district attorneys in the United States who regularly prosecute false allegations of domestic violence.
As of now, the only true help a person accused of domestic violence can find is with a
domestic violence defense attorney
to avoid conviction and prove their innocence. Even so, the accused are often arrested and charged based on the word of the accuser and then face attorney fees and a social stigma that can last months, years, or a lifetime. Even without formal criminal charges, a false accusation of domestic violence can result in devastating circumstances for the accused socially, professionally, and even financially.
A good -or bad – example of this situation was in 2015 when UFC Heavyweight,
Travis Browne
, was accused of domestic violence by his estranged wife and fitness model, Jenna Renee Webb. Rather than making a formal claim and getting the authorities involved, on July 8, 2015,
Ms. Webb posted a photo
of her, with a bruised face and arms, on her Instagram profile with over 100k followers.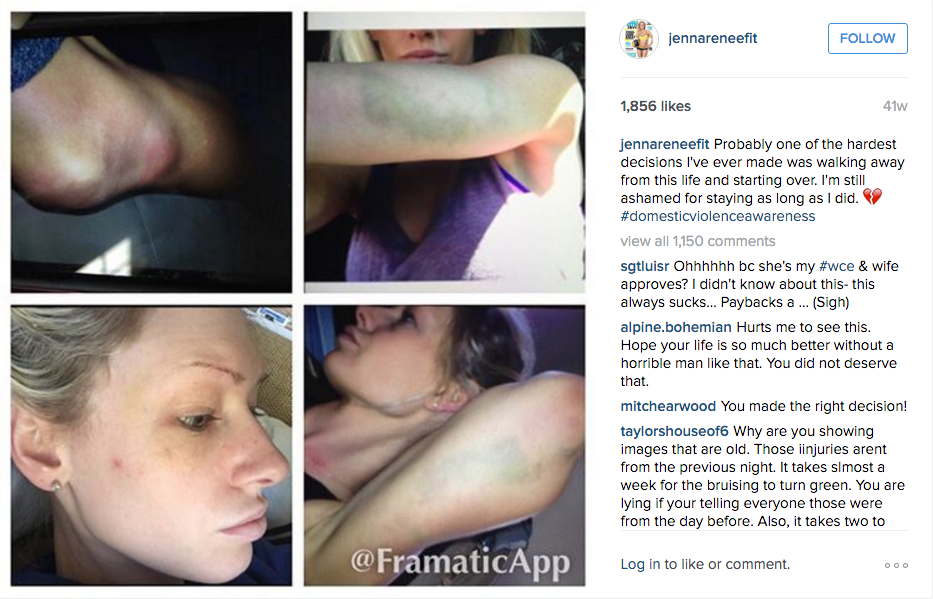 The picture was accompanied by the following caption: "Probably one of the hardest decisions I've ever made was walking away from this life and starting over. I'm still ashamed for staying as long as I did. #domesticviolenceawareness".
This caused a social media uproar with "trolls" coming out of the woodwork to attack Mr. Browne for his alleged abuse, even though there was no concrete evidence of abuse or criminal charges. Due to the violent nature of professional fighting, the
UFC quickly suspended Browne
to conduct their own private investigation into the matter.
One month after allegations surfaced, the investigation concluded and found "inconclusive evidence" to support the allegations of domestic violence. Although Browne was reinstated and much of the public attention of the matter eventually died down, the damage was already done. A quick look at Browne's social media accounts shows he still receives messages and comments accusing him of beating his wife.
@travisbrowneMMA what? Like your wife ?

— sgt_nao83 (@sgt_nao83) April 19, 2016
@travisbrowneMMA @gfc_diamond put your ex wife's picture on the pads, you'll hit harder.

— ideally (@JohnDeally) April 18, 2016
Do people hate @travisbrowneMMA because he's schlepping Rousey, or because the #domesticviolence stuff finally caught up to him? #UFCBoston

— McKinley Noble (@KenTheGreat1) January 16, 2016
With the massive impact a false allegation of domestic abuse can have on the accused, it's a wonder why the accusers are so rarely prosecuted, especially with the drastic negative impact it has on the life of the accused.