According to the Food and Drug Administration (FDA), breast implants can cause a rare and deadly form of cancer that, as of March, 2017, has killed at least nine people.
The FDA is investigating as many as 359 medical device reports linking both silicone and saline breast implants to an aggressive cancer called anaplastic large cell lymphoma – or ALCL.
Anaplastic large cell lymphoma is a rare, non-Hodgkin's lymphoma that can manifest itself in the bones, lymph nodes, skin, soft tissue, or several different organs. ALCL in the breast is exceedingly rare; approximately 3 in 100 million women per year in the U.S. are diagnosed. This is what makes the report of 359 cases so significant.
When present in those with breast implants, ALCL appears in the "capsule" – the fibrous scar tissue that develops around the implant – rather than the breast tissue. Symptoms can include, but aren't limited to, severe pain, seroma (a collection of fluid in the implant area), lumps, and hardening of the breast.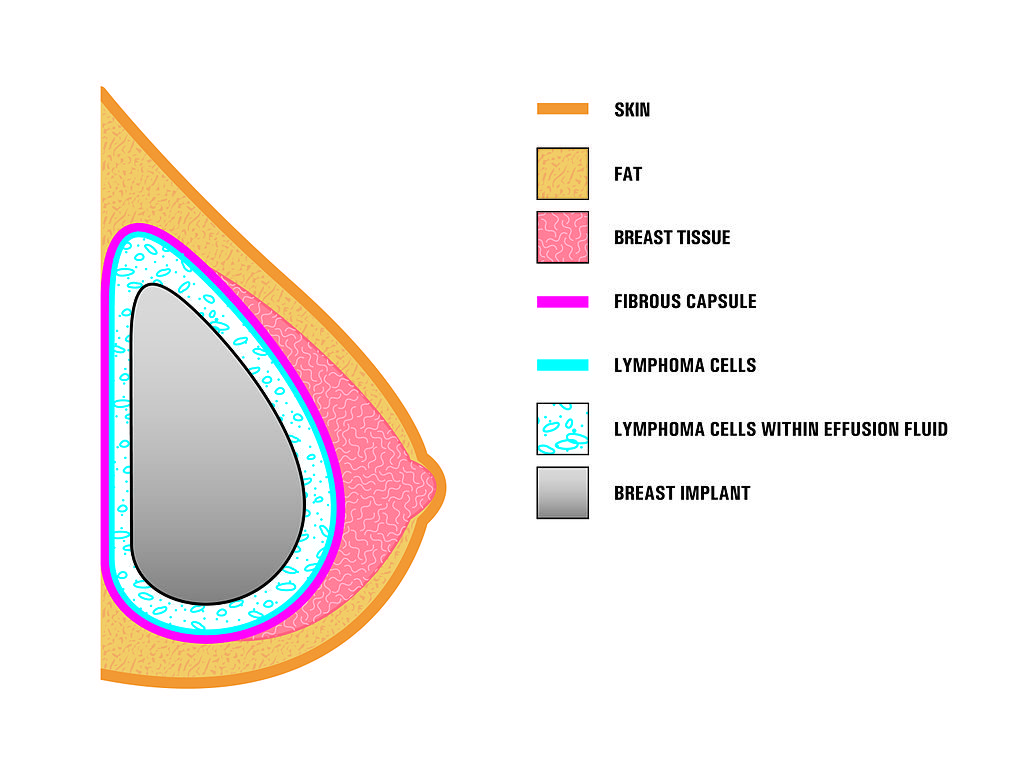 The FDA announcement came after the World Health Organization (WHO) concluded that ALCL can develop following breast implant procedures. According to the FDA website, "All of the information to date suggests that women with breast implants have a very low but increased risk of developing ALCL compared to women who do not have breast implants."
The American Society of Plastic Surgeons estimates that there are between 5 and 10 million breast implants in use worldwide. According to the FDA, the median time from implant procedure to ALCL diagnosis was seven years and patients had a median age of 53 years old.
What Type of Implants Are Being Investigated?
While no determination has been made at this time, the problem seems to be significantly worse with textured breast implants, rather than smooth devices. Of the 359 medical device reports being investigated, 231 included information on the implant surface. Of these 231, 203 were reported to be textured implants while only 28 were smooth implants. Textured implants are typically  placed above the muscle and reduce the risk of capsular contraction – a scar tissue growth forming around the implant, but also have a higher rupture rate than smooth implants.
In terms of implant fill material, 312 medical device reports (MDRs) reported on fill type, with 186 reporting the use of silicone gel-filled implants and 126 reporting the use of saline-filled implants.
No manufacturer information was available from the MDRs. Currently, only five different breast implants are approved for use in the United States, which are made by three manufacturers: Allergan, Mentor (a Johnson & Johnson – makers of talcum powder – division) and Sientra. The FDA approved devices are:
Breast Implant Cancer Lawsuits
While there are no current lawsuits against manufacturers of breast implants, the FDA announcement may change things. There is very little data on rare events and long-term outcomes such as the link to ALCL. In 2011 – prior to the announcement of the ALCL link – the FDA reviewed scientific literature from 1997-2010 on the development of anaplastic large cell lymphoma in women with breast implants, but declined to issue a recall and deemed FDA approved breast implants as safe and effective. However, at that time there were only 34 cases being investigated, far fewer than the 359 currently under review.
What is clear is that time is a factor. The longer a woman has breast implants, the more likely she is to experience a complication. Other performance and safety issues regarding breast implants include:
Implant Rupture – The most common cause in reported ruptures is damage during the implantation surgery, but a small portion of breast implants have shell and surface defects and failure. This often leads to leaking material into the body.
Re-operation – In studies, Mentor patients we subject to another operation within three years in nearly 11 percent of initial augmentations – and 20.4 percent in reconstruction procedures. Allergan patients fared slightly better at 6.5 percent for silicon and 4.5 percent for saline.
Implant Removal – 3.4 percent of Allergan implants were removed within two years, while five percent of Mentor implants were removed within three years.
Capsular Contracture – Severe scar tissue build up occurred in around five percent of augmentation procedures monitored in manufacturer studies.
Spontaneous Abortions, Miscarriages or infertility – In fact, in one study, Mentor reported 153 patients with pregnancies over eight years. Of these patients, 23 reported miscarriages and one reported a stillbirth.
Women who have experienced any of these side effects or have been diagnosed with ALCL should speak with a medical device attorney to weigh their options. Given the large number of MDRs linking breast implants to cancer, you may have a case.